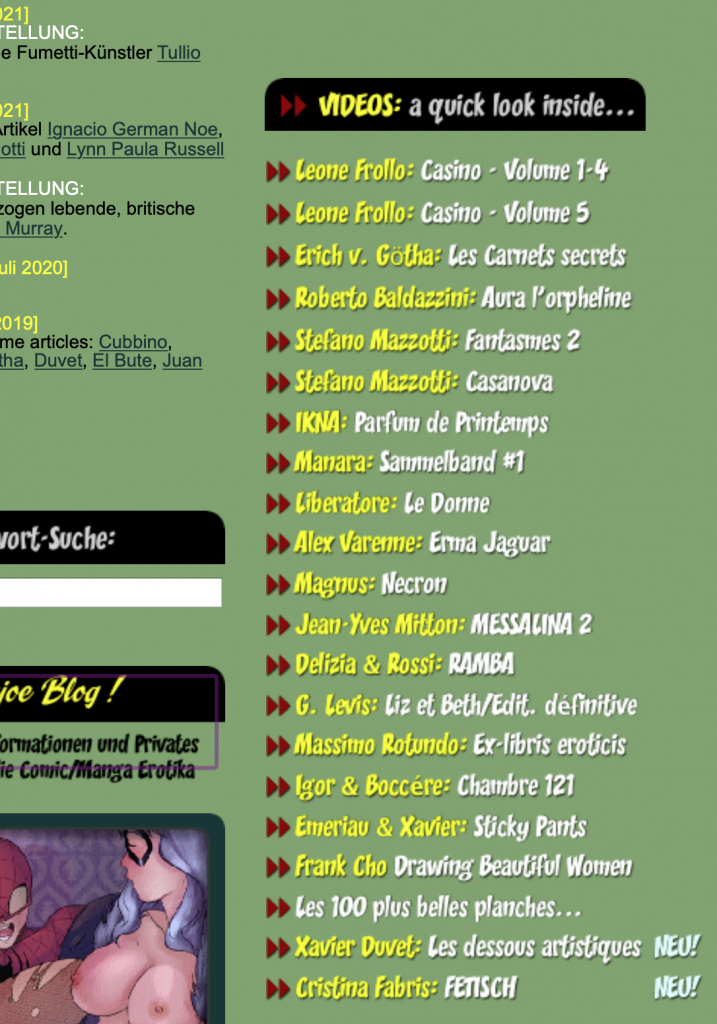 Nachdem mein Youtube-Channel geschlossen wurde, habe ich auf meiner Hauptseite eroticcomic.info eine eigene Video-Section aufgemacht. An dieser Stelle (Seite rechts) wird es nach und nach neue Videos geben, die UNZENSIERT präsentiert werden. Unter diesen neuen Videos ist zum Beispiel das Sammelwerk Les dessous artistiques de Xavier Duvet. Ein überaus empfehlenswertes Buch, auch wenn nur in französischer Sprache erhältlich. Wer einen Überblick über das umfangreiche Schaffen des französischen Künstlers erleben möchte, kommt nicht um dieses Buch herum. Hier gibt es einen ersten Einblick.
Auch ein neues Video, auf das ich stolz bin: Die deutschsprachige Ausgabe FETISCH von Cristina Fabris! Hier geht es zum Video.
After my Youtube channel was closed, I have opened a separate video section on my main page eroticcomic.info. At this place (page on the right) there will be new videos, UNCENSORED of course. Among these new videos is, for example, the anthology Les dessous artistiques de Xavier Duvet. A highly recommendable book, even if it is only available in French. Anyone who wants to experience an overview of Xavier Duvet's extensive art work, will love this book. Here you can get a first insight.
Also a new video, of which I am proud: The German language edition FETISCH by Cristina Fabris! Click here for the video.