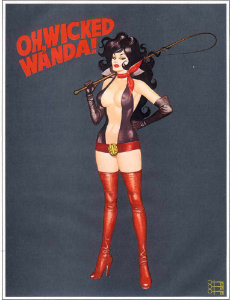 Das Herrenmagazin Playboy war dafür bekannt seine freizügigen Inhalte mit anzüglichen Cartoons aufzulockern. In den Jahren 1962 bis 1988 geschah dies unter anderem mit der Kurzgeschichten-Comic-Serie Little Annie Fanny von Will Elder und Harvey Kurtzman. Deshalb benötigte Konkurrent Penthouse ebenfalls eine erotische "Herrenwitz"—Comic-Serie. So entstand Oh, Wicked Wanda!.
Bob Guccione – Herausgeber von Penthouse – war wie Hugh Hefner – Herausgeber von Playboy – ein leidenschaftlicher Comic-/Cartoon-Fan, und so erschien ab dem Jahr 1973 bis 1980, die satirisch angelegte Comicstrip-Reihe "Oh, Wicked Wanda!".
Ron Embleton (6. Oktober 1930 bis 13. Februar 1988), war bereits ein erfahrener Comiczeichner zu der Zeit. In den 1960er Jahren arbeitete er an zahlreichen Abenteuerserien, wie "The Travels of Marco Polo" (1964), "Men of the Jolly Roger" (1965) oder "Rogers' Rangers" (1970).
Frederic Mullally (25. Februar 1918 bis 7. September 2014) begann seine Karriere in den 1940er Jahren als Journalist und war zum Start von "Oh, Wicked Wanda!" bereits ein erfolgreicher Romanautor.
The men's magazine Playboy was known for spicing up its revealing content with lewd cartoons. 
From 1962 to 1988, this was done, among other things, with the comic series Little Annie Fanny by Will Elder and Harvey Kurtzman. Therefore, competitor Penthouse also needed an erotic "adult" comic series. That's how Oh, Wicked Wanda! was born.
Bob Guccione – publisher of Penthouse – was, like Hugh Hefner – publisher of Playboy – a passionate comic/cartoon fan, and so from the year 1973 to 1980, the satirical comic strip series "Oh, Wicked Wanda!" was published.
Ron Embleton (October 6, 1930 – February 13, 1988), was already an experienced comic artist at the time. In the 1960s, he worked on numerous adventure series, such as The Travels of Marco Polo (1964), Men of the Jolly Roger (1965) and Rogers' Rangers (1970).
Frederic Mullally (February 25, 1918 – September 7, 2014) began his career as a journalist in the 1940s and was already a successful novelist by the time "Oh, Wicked Wanda!" was launched.